---
---
Jack3d Advanced Formula By USP Labs - Pre Workout
We know finding the perfect workout is hard. USP Labs knows this better than anyone. Don't waste your money again on a pre workout that doesn't deliver. Introducing USP Labs Jack3d!
What Is Jack3d?
Jack3d is an intense powder pre workout by USP Labs. In other words its an intense training aid enhanced with Geranium.
Jack3d is part of our top 2019 best pre workouts.
Who Should Take Jack3d?
Jack3d is a perfect pre workout for the stim junkies. This means people who have a high tolerance to stimulants since as caffeine.
If you have been taking pre workouts for years and need a pre workout to give you alot of energy then, the new formula for Jack3d is for you.
If you are someone that is caffeine sensitive, you can still take Jack3d. It is just recommended that you start off with half a scoop first.
What Can I Expect From Taking Jack3d?
Crazy Energy †
Tunnel Focus †
Bursting pumps †
Are you ready to experience Jack3d? Your workouts will never be the same.†
How Do I Take Jack3d?
Dosage and Directions:
Mix 1-3 scoops with 6-12 ounces of cold water and consume 1 serving daily.
On exercise days, consume 30-60 minutes before resistance training.
Contents may settle.
Shake container before each use.
Store in a cool dry place to prevent clumping and discoloration.
Do not exceed 3 scoops per day.
Common Questions About Jack3d:
We get a lot of questions about Jack3d. Here are the Frequently Asked Questions:
How Much Caffeine Is In Jack3d?
There is 135 mg of caffeine per serving (scoop) in Jack3d.
Does Jack3d Still Contain DMAA?
No. Jack3d no longer contains DMAA.
Is USP Labs Jack3d Micro Available?
No, this product has been discontinued.
Can I Drink Alcohol While Taking Jack3d?
No. Do not combine with alcohol.
Can Women Use Jack3d?
Yes, there isn't any gender specific ingredients in Jack3d. *Pregnant or nursing women should not use this product.
Does Jack3d Contain Creatine?
Yes, Jack3d contains a blend of creatine monohydrate.
Is The Original Formula of Jack3d Coming Back?
No, the old formula has been discontinued and is no longer available. We have made a new improved formula.
Why You Can't Find This At Big Name Stores?
Jack3d's old formula used to contain DMAA. Because of this why you won't find this at GNC, Amazon, Walmart, Bodybuilding and others.
Jack3d Ingredients:
What's Inside Each Scoop?
Arginine Alpha-Ketoglutarate
Creatine Monohydrate
Beta Alanine
Caffeine
2-Aminoisoheptane HCL
Geranium Extract (stem and leaves)
Yohimbe Extract (bark)(Standardized for Yohimbine Alkaloids)
Schisandra Chinensis (berry) Extract) (Standardized for Schizandrol A)
What's In USP Labs Jack3d?
Jack3d Supplements Facts / Label: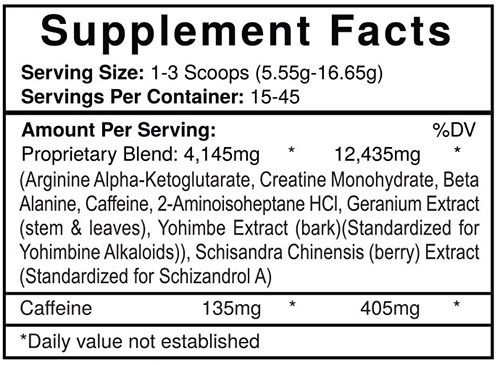 Warnings and Side Effects:
Keep out of reach of children. Read entire label before taking this product. This product is intended only to be consumed by healthy adults 18 years of age or older. Do not use in combination with caffeine or any other stimulants from other sources. Do not use under extreme conditions of:
Heat
Cardiovascular exertion
Sleep deprivation
Dehydration
Consult with your Physician before using this product. Especially if you are using any prescription or over the counter medication. or if you have any pre-existing medical condition including but not limited to:
High or low blood pressure
Cardiac arrhythmia
Stroke
Heart, Liver, Kidney or thyroid disease
Sizure disorder
Psychiatric disease
Diabetes
Difficulty urinating due to prostate enlargement
Taking a MAOI (Monoamine Oxidase Inhibitor) or any other medication
Do not use if you are taking erectile dysfunction medication. Do not take additional nitrates along with this product. This product contains caffeine. It should not be taken by individuals wishing to cut this ingredient from their diet. Discontinue use 2 weeks prior to surgery. Stop use and consult your physician if you experience any adverse reaction. Do not exceed recommended serving.
This product can raise your blood pressure and interfere with other drugs you may be taking. Talk to your doctor about this product.
PLEASE NOTE: Product images represent the product offered but may not contain exact attributes. Please read product description for the specific attributes of this product.
† PLEASE NOTE: The intention of the information above is for reference only. It is our goal to maintain and display accurate information. Yet, we can't guarantee it represents the latest formulation of the product. If you have any concerns, please visit the manufacturer's web site. Also the information above is not a representation of our views at Same Day Supplements. These are the views and information provided by product's manufacturer. The Food and Drug Administration has not evaluated these statements. The intention of this product is not to diagnose, treat, cure or prevent any disease or illness.
*Prices are subject to change at any time and items may limit to stock on hand.
---
The perfect pump!
I received the pre workout Jack3d and at first I was kinda sceptic about using it due the stuff that's in it like the old Jack3ed.. but after getting the info from the owner "close buddy of mine" I decided he'll why not… it gave me the perfect pump and the focus that I needed with out the feeling of being cracked out… I for sure I will be getting more from you guys … thanks