PUMP EXTREM
Advanced Nitric Oxide Booster!*
PRODUCT OVERVIEW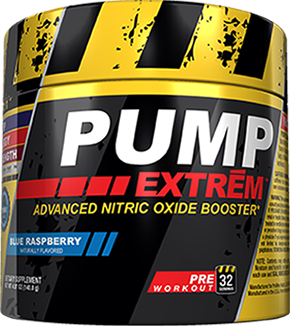 PUMP EXTRÈM® is an advanced nitric oxide booster that will produce intense muscle pumps, tunnel vision focus, and unmatched energy levels to help athletes and fitness enthusiasts dominate their workouts.*
WHO USES
 

PUMP EXTRÈM

?

PUMP EXTRÈM is used by men and women who are looking to intensify their workouts and take them to the next level.*
PRODUCT HIGHLIGHTS
Ingredients in PUMP EXTRÈM can help support:
WHY PUMP EXTRÈM
PUMP EXTRÈM improves nutrient uptake and oxygen delivery during exercise. Featuring three key vasodilators (Agmatine Sulfate, L-Norvalline, and L-Carnitine), the resulting effect is a significant improvement in endurance, vascularity, and energy levels.*
FRED "BIGGIE" SMALLS: TRAINS WITH
PUMP EXTRÈM
PUMP EXTRÈM is available in Blue Raspberry, Lemon-Lime, Watermelon & Fruit Punch powders. PUMP EXTRÈM is Gluten Free and has zero calories.*
What's in ProMera Sports PUMP EXTREM 
Serving Size 1 Scoop (4.4g)

Servings Per Container

32

Amount Per Serving

% Daily Value **

Vitamin B3 (as Niacin)

25

mg

125%

Folic Acid

200

mcg

50%

Vaso Support Matrix

2,758

mg

†

Beta-Alanine (CarnoSyn®), Agmatine Sulfate (AgmaMax™), L-Norvaline, Glycine Propionyl-L-Carnitine Hcl (GlycoCarn®), Caffeine Anhydrous (200mg), Capsicum Extract (Capsicum Annuum) (Fruit) (Standardized For Capsaicinoids) (Capsimax™), Rutaecarpine, Black Pepper Fruit Extract, (Bioperine®)

** Percent Daily Values are based on a 2,000 calorie diet.

† Daily Value Not Established

Other Ingredients:

Citric Acid

, Natural and Artificial Flavors

, Sucralose

, Silicon Dioxide.
Directions For PUMP EXTREM: Adults, to determine tolerance mix up to 1 serving (1 scoop) with 6 to 8 ounces of water 15 minutes prior to training. Once tolerance is assessed you may increase up to 2 servings (2 scoops). DO NOT use more than 2 servings at one time. NOTE: 2 scoops has 400mg of CAFFEINE. Do not consume 6 hours prior to bedtime.
Warnings: This supplement is not intended for persons under the age of 18. Always consult your physician before using this or any other dietary supplement. DO NOT USE IF PREGNANT OR NURSING. Do not use if you have or suspect having cardiovascular, renal or hepatic disease. Individuals with high or low blood pressure, diabetes, being treated for erectile dysfunction, psychiatric or mental disorder, taking MAOI inhibitors, OTC or prescribed drugs should not use this product. Discontinue use immediately and consult a physician if you experience any adverse reaction to this product, which may include (but not limited to) sleeplessness, tremors, dizziness, nervousness, headaches, or heart palpitations. STORE IN A COOL DRY PLACE. KEEP OUT OF REACH OF CHILDREN.
* These statements have not been evaluated by the Food and Drug Administration. This product is not intended to diagnose, treat, cure, or prevent any disease.